Luca Pignatelli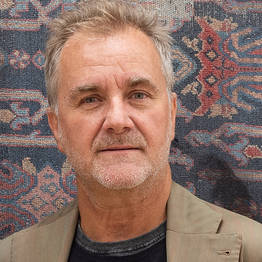 Luca Pignatelli was born on the 22nd of June, 1962 in Milan, where he still lives and works. Son of Ercole, an artist himself, after obtaining his high-school diploma, in the early Eighties he enters the Politecnico di Milano, attending the architectural composition courses. The Department of Architecture at that time was entrenched with the intuitions of Aldo Rossi and inspired by the concept of the sedimentary growth of History, which, for Pignatelli, will acquire a special relationship with painting, connecting the artist's research on Time and Memory.
Always aware of the changes that take place among the sceneries of art, painting and architecture, Pignatelli is capable of condensing them into a transversal historical reflection.
The City and the History of Art represent for the artist a sort of permanent setting to human events, but nonetheless a dimension wherewith Pignatelli engages his artistic research, operating analogies, as well as modifications.
He is fascinated by anonymous architectures and port cities, with their construction sites and movement of good, encountered during his travels across European cities, by Milan, native city and place of choice, along with New York, where he sojourns for long periods starting from 1986.
As a painter capable of facing the challenges posed by large scale works, Pignatelli normally utilizes recovered and unexpected supports, pictorial in themselves: canvases and tarpaulins, woods and irons, assembled papers onto which he operates applying his selection of images, icons of the collective memory taken from a kind of universally renown repertoire.
His work explores images that are often finds of a lofty classical nature but also urban or mountain landscapes, sometimes trains, planes, symbolic elements, employed by the artist to construct and deconstruct a new evocative visual repertoire.
Currently, the Luca Pignatelli's research focuses on materials and on the esthetic and conceptual possibilities generated by the superimposition and stratification of different iconographic cultures.
Persepoli represents the most recent outcome of this journey of never-ending experimentation: a cycle of mixed media on antique Persian carpets, created under the intention of integrating distant historical periods, cultures and worlds.
Among his most recent solo exhibitions we cite: "Persepoli", Mosaic Room of the Classense Library, Ravenna, (2018); "Luca Pignatelli", Galleria Poggiali, Pietrasanta (2018); "Persepoli", La Fenice theatre, Venice (2017); "Luca Pignatelli", Cucchiari Palace, Carrara (2017); Uffizi Gallery in Florence (2015); Modern Art gallery " GAM, Turin (2015); Capodimonte Museum, Naples (2014); National Institution for Graphic Art, Rome (2011); Musée d'Art Moderne et Contemporain de Nice " MAMAC, (2009); MANN, National Archeological Museum, Naples (2008); Santa Maria delle Grazie, Milao (2008); India Theatre, Rome (2007); Annex Plus " White Box & Ethan Cohen Fine Arts, New York (2006); Galerie Daniel Templon, Parigi (2005); Generous Miracles Gallery, New York (2004, 2003, 2000); Galleria Thomas Levy, Madrid (2002); Mudima Foundation, Milan (1999); Friedlander Limn Gallery, San Francisco, CA (1999); Leighton House Museum, London (1991).
Among his group exhibitions we cite: Work in Progress. San Patrignano Foundation Contemporary Art Collection, La Triennale di Milano and MAXXI Museum in Rome (2018); Mediterraneo. Lo specchio dell'Altro, Royal Palace, Milan (2018); Arte contro la corruzione, Casa Testori, Novate Milanese (2017); Gallerie dell'Accademia, Florence (2014); Palazzo Chiablese, Turin (2014); "Co-existance", MAXXI Museum in Rome & The Jerusalem Foundation, Tel Aviv (2010); 53rd International Art Biennal Exhibition, Venice (2009); Gino Di Maggio Gallery, Berlin (2004); "New Acquisitions", Everard Read Gallery, Johannesburg (2004); "Arte è Pace"; 50th International Art Biennal Exhibition, Venice (2003); Palace of the European Parliament, Strasburgo (2003); Académie Royale de Belgique, Bruxelles (2002); Isetan Tokyo Museum, Tokyo (2000); PAC " Contemporary Art Pavilion, Milan (2000); Musée Nicolas Sursock, Beyruth (1997); Musée Pully, Losanna (1996).
More about Luca Pignatelli
Curriculum
2018
Persepoli
Biblioteca Classense - Sala del Mosaico, Ravenna
2017
LUCA PIGNATELLI
Fondazione Giorgio Conti - Palazzo Cucchiari, Carrara
2017
Persepoli/Riflessi del residuo
Teatro La Fenice, Venice
2015
MIGRANTI/Autoritratto come Mitridate
Galleria degli Uffizi - Sala del Camino, Florence
2015
BLUE NOTE/Opere su carta
GAM - Galleria d'arte moderna e contemporanea, Turin
2014
OFF PAPER
Galleria M77 Milan/St. Moritz
2014
LUCA PIGNATELLI
Museo di Capodimonte, Naples
2011
ICONS UNPLUGGED
Istituto Nazionale per la Grafica - Palazzo Poli, Rome
2010
SCULTURE/ANALOGHE
Galleria Poggiali e Forconi, Florence
2009
ATLANTIS
MAMAC - Musee d'Art Moderne et d'Art, Nice
2008
LUCA PIGNATELLI
Museo Archeologico Nazionale, Naples
2007
LUCA PIGNATELLI PAINTINGS
Teatro India, Rome